From Amelia Hugill-Fontanel, Assistant Curator of the Cary Collection
 For the past 15 years, the Cary Collection has been faithfully collecting the body of amazing photography books published by 21st Editions. These works are the epitome of the harmonious fusion between photographers' vision and excellent production quality in book design, printing, and binding. They often include special platinum or vintage gelatin silver prints, usually signed by the photographers. All of the books are produced in limited edition, meaning only several dozen copies of each title was offered for sale. All of these criteria make the 21st Editions books exceedingly rare.
But here is the best part… you, as RIT Photo students have an open invitation to visit the Cary Collection and peruse any of these landmark books. Stop into Cary on the 2nd floor of the Wallace Center, Monday through Friday, 9 a.m.–12 p.m., 1–5 p.m. No appointment necessary. Get inspired by a 21st Editions trailer. Hope to see you soon!
About the RIT Cary Graphic Arts Collection
cary.rit.edu | FB: RIT Cary Graphic Arts Collection | #RITCaryLibrary
The Cary Collection is one of the country's premier libraries on graphic communication history and practices. The library currently houses some 45,000 volumes related to fields of studies including: alphabet and writing systems, early book formats, calligraphy, book design, type design and manufacturing, paper making, bookbinding, artists' books, fine press printing, and the future of the book. We are committed to supporting relevant academic curricula at RIT, as well as outside scholars working in the disciplines of book and graphic arts history.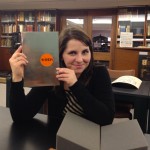 Amelia Hugill-Fontanel is assistant curator at the RIT Cary Graphic Arts Collection. She is an art historian and editor who has contributed to numerous publications about Cary Collection holdings, including those about graphic design, calligraphy, wood type, and typefounding. Amelia is also a letterpress printer and a trustee of the American Printing History Association. She previously worked in the George Eastman House's photography collection, and holds a graduate degree from the RIT School of Printing.