When we reached out to some of our alumni, we asked them some questions about their time during and after RIT. David Gallagher responded to our questions, here is what he shared with us.
Why did you choose RIT?
I have to be honest, when I was graduating High School RIT was always my first choice for my next level of education.   However, the cost of the tuition was a big concern; it was 35% higher than my second and third choices.  This was significant for me since I was from a small country town and those numbers seemed out of reach.  So I made a choice of college based purely on finances and not on what my heart told me was the right choice.   Thus my first year of college was in the Southern US at a college that was wonderful but it was not RIT.  Halfway through the year I found myself dreaming of the facilities in Rochester that I had seen on my tour of colleges.  I always wondered what I had given up by not following my gut and it ate at me internally.  So mid-year I reapplied to RIT as a transfer student and applied for every student loan or grant that I could find.  I distinctly remember the day that the letter came from the admissions office with both student loans and a grant that made RIT reachable the following year.  I instantly on that spot looked forward to starting my real education in Rochester in the Fall of 1987.
How did RIT prepare you for the "real" photographic world?
I remember struggling through Materials and Processes, Photographic Chemistry, Optics, and any class that Glenn Miller taught!  I couldn't believe the depth of the photographic process that we were learning.  I thought to myself "when will I ever need to know hyperfocal measurements, D log h, or MTF curves yielding diffraction."  Here we are 26 years later and I am using these terms every day.  The long hours of studying in Kate Gleason and all-nighters in Perkins paid off immediately after graduation.  Digital imaging was at its infancy in the early 90s.  Digital capture devices changed our industry in the relative blink of an eye.
I feel very fortunate that I was prepared with the RIT education to be at the forefront of this technology with the tools to be able to understand it.  It made it very easy to stand out against those who did not have the same preparation as I did.  Today I am able to speak to my customers on their level regardless of what industry they are in.  On Monday I can be in the country's most advanced scientific photo studio, Tuesday a fashion studio, Wednesday a food studio, Thursday up at sunrise with a landscape shooter, and Friday with one of the worlds best architectural photographers.
The wide range of education that I received at RIT made it possible for me to speak the language of any photographic user and understand the complexity of their shooting situation.  This has been essential in my success with my company.   It means that the worlds best photographers come to us for support knowing that we understand their needs and can talk intelligently about their specific situation.   Simply stated, the investment in the RIT education the best decision I made as a young adult.
What are you doing professionally?
After graduation I put my time in working for leading manufacturers and distributors of photographic products such as Sinar, Broncolor, and Phase One.  Very quickly I was shocked at what I perceived as a lack of customer service in the retail side of our marketplace.  There were a lot of "box movers and order takers" but very few companies that understood the actual high-end photographer.  No resellers acted as a partner to the shooters with education or making themselves available to them in the normal high stress situations of a photographic shoot.
Eventually after 15 years in the industry and seeing that most resellers only cared about short-term profits and making the one sale, I opened Capture Integration in Atlanta, GA.   We sell and rent the best photographic products in the marketplace.  My wife says that we have the "photo gear that makes men weak in the knees!"  I love that statement because we really do have the latest equipment that can't be found in most places.  We quickly became known for our medium format digital knowledge and broke out of the local marketplace.
I started the company for the local Atlanta market but we were able to grow nationally by just simple business practices that so many companies forget:  you are nothing without your customers, treat them as you would want to be treated yourself.  Add to this strongest photographic knowledge that can be achieved and provide a value and trust that you will be their long term partner.   Ben Franklin stated "The bitterness of poor quality remains long after the sweetness of the low price is forgotten."  There are plenty of box moving resellers where photographers can get the lowest price on gear.  This is not my company.  Our model is based on trust and long term partnerships.  We are the antithesis of the box movers and this has been something that many photographers have been looking for in our marketplace. This year we opened our third office in New England to add to our offices in Miami and Atlanta.  And we will be opening our fourth office this year on the West Coast.
How you are using social media in your professional work?
Thomas Friedman coined the phrase "the world is flat" when it comes to how easy it is to be a global company today in our web based/social media world.  We daily use instant messaging, internet video conferencing, and cell phones that virtually put us in the studio with photographers from around the world.  Tech support, training, and software questions can be answered immediately due to our instant technology.  Of course this is a double edged sword.  It means that we receive calls and texts from Paris to Hong Kong to Sydney at all hours of the day.  But if that is what it takes to satisfy the top shooters in the world then that is what has to be done.  It actually makes my job unbelievably enjoyable.  Just last week in one day I was on set with Gregory Crewdson in the Berkshires, texting Richard Misrach tech support in LA, and speaking to Jeffrey Salter in Miami about his Sports Illustrated cover.
Technology is a tool that allows us to be as in touch as we choose.  It's exciting and it's a challenge to keep up with the younger generation out there.  Now with this said – I don't tweet.  Not enough characters and not enough content for me.  I will leave that to other markets.  It doesn't fit me or my personality.  We do use Facebook, Instagram, and LinkedIn and while they are enjoyable, the majority of our business is transacted through our website and blog.  We try to provide the most knowledgeable content about MF photography and workflow software that can be found on the web.  And the vast majority of our new clients tell us that they heard about us from referral or by a Google search for content online.   Our website and content is one of the major reasons were are able to conduct an international photography business out of a smaller local marketplace.
How has being a photographer helped you in other aspects of your life?
I have a Bachelors of Science degree from RIT in Imaging Technology;  I don't consider myself a "photographer".  Maybe that sounds strange.  I conduct workshops around the country on software workflow.  I will have long arguments over a good bottle of wine about how the photographic DOF formula needs to be rewritten due to the smaller pixel wells of digital backs, the lack of print viewing distances, and "pixel peeping".   I believe that I understand the physics and principles of photography as well as anyone in my field – but I don't consider myself a photographer.  You see, I don't get paid to create imagery.   I don't "press the button" for a living. So I don't consider myself a professional "photographer."   I am completely OK with this.   I think too many people go to school and think that they are all going to be an Annie Leibowitz or David La Chappelle.  And the truth is that 99.9%  won't.    But there are amazing careers out there for anyone who wants to go work their tail off and put their time in.  My analytical brain brought me to this side of the industry.  And I love every second of what I do.  My photographic background helps me speak the language of my clients.  And it helped me land the woman of my dreams, who incidentally is a wedding shooter.  So while I don't consider myself a photographer, I couldn't be deeper in this industry than I am today, and I wouldn't change a thing whatsoever!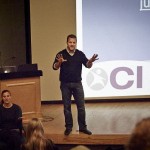 David Gallagher, '91, owns Capture Integration, one of the most respected photographic sales organizations in the the marketplace.  Based out of Atlanta, GA Capture Integration is an international award winning company that is recognized as the world leader in medium format digital photographic sales.  He is a graduate of the Imaging Photographic Technology program at RIT.  Dave is married to Christine Gallagher, a talented and successful wedding photographer.  He has three beautiful children, 10 hard working employees, 4 cats, and a dog.  Needless to say, he has his hands full.