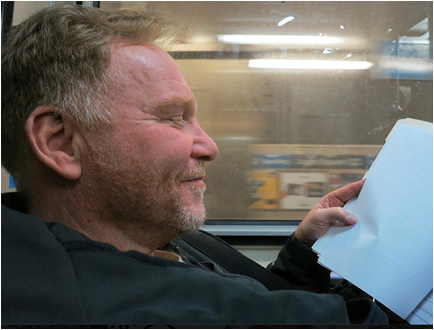 Intersession experiences reconnecting with Alumni
By Associate Professor Dan Larkin
I traveled to the west coast during our first ever semester break. I have been at RIT for 25 years so this was a really new experience. Craving warmth and sunshine, I found a reasonable airfare and car rental combination that I couldn't pass up.
During the flight to L.A I  was perusing Hemispheres magazine and I found an article tailor made for me – Three Perfect Days: Los Angeles. I'd been to L.A. several times but when traveling I'm always interested in finding new things to explore. There was limited information in the stories but the articles were illustrated with pretty seductive pictures. To great surprise when I looked at the credits, the photographer listed was my former student and teaching assistant extraordinaire – Joe Schmelzer, BFA Advertising 1995.
Day one
As soon as I arrived, Joe and I caught up over lunch at the hip L.A. diner, Swingers. Johnny Knoxville was seated at the counter working on his laptop, but I didn't know who he was until Joe told me… just another Hollywood hipster he shared. Later we saw the James Turrell Retrospective at LACMA and I got my first look at the L.A. Brea Tar Pit. I don't know why but I was surprised that it actually bubbled. Joe was scheduled to photograph a couple of celebrities in the next 2 upcoming days, which was just a regular week for him.
Photos by Joe Schmelzer
Joe has been in L.A. for almost 17years and he has established himself as an editorial and commercial photographer who specializes in hotel, food, environmental and celebrity portraits. According to his website – 'By the time everyone stumbles in for an 8 a.m. shoot, Joe has had three coffees, washed his car, bought jeans on eBay and marinated a brisket.' To see more of his work visit: http://joeschmelzer.com
Day two
The next day of my visit, I ate lunch with Graham Walzer, BFA Fine Art 2010 at Alcove in the Los Feliz neighborhood. Graham is presently freelancing with Day 19 as well as working with other photographers. He is also continuing to produce his own work. Graham is a native Angeleno and has a unique awareness of the light and fauna in southern California. That's what I really enjoy about his pictures. I wished I could have stayed longer to attend a book launch scheduled for his new project entitled, Glow Worm.
To see more of Graham's work visit: http://www.grahamwalzer.com
Photos by: Graham Walzer
Day three
I also reconnected with Joe Toreno, BFA Advertising 1998. We had dinner at the dimly lit, low key 101 Coffee Shop. This diner, which is located on the first floor of the Best Western Hollywood Hills Hotel, was used as a prime location for the film Swingers with Vince Vaughn. It felt kinda cool just to hang out there.  After 10 years of living in L.A. Joe moved out to Ontario (about 30 miles east of L.A.) He and his wife and son now live in a house with some space around them. He's been working pretty steadily doing editorial work and pursuing interesting personal projects. To see more of Joe's work visit: http://www.joetoreno.com
This trip made me realize how fortunate I am. One of the great benefits of having enjoyed a lengthy teaching career is the wonderful opportunity to catch up with RIT alumni. It's kind of like visiting family without the obligation and not a bad way to travel.
I returned to Rochester relaxed and refreshed. I still had one week left before classes were to begin and to prepare for the spring semester. Thankfully I got to wear shorts days in January because this has been the longest, coldest and snowiest Rochester winter in recent memory.
Dan Larkin
Fine Art Photography
School of Photographic Arts and Sciences