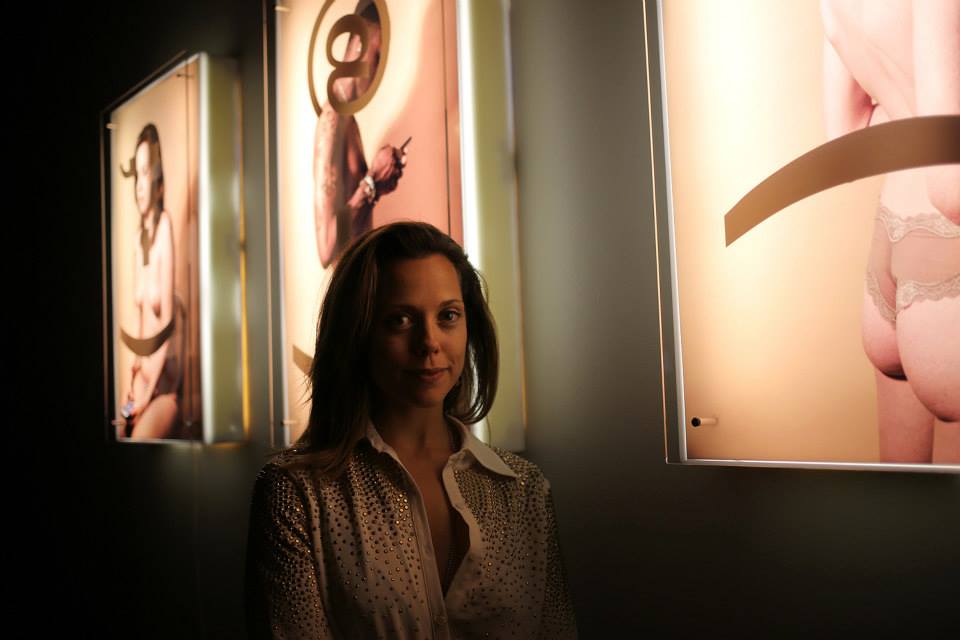 RIT Photography reached out to successful alum Jana Cruder. We asked her to tell us about her career since graduation. Here is what she shared.

Sorry it took so long to create this post. Just when you think all planes have wi-fi,  you learn international planes do not. So all the work I anticipated getting done on the flight I did not.   Now that I am back, I wanted to get this sorted out for you.  Thank you for the kudos' on MTV  piece.  I am trying very hard to stay on top of things. Everyone who is successful in this industry has to be on multimedia or learn how to make it in that world.  The photo industry is going through a huge transition and many are searching for what will be next opportunities in their careers. It is a completely different business than in used to be.
As an independent studio, I pursued the strategy of building multiple income streams and saw this develop in early 2010.  I went to San Francisco and took a video boot camp class. Following that workshop, I have been working on and honing my moving image services.  There is so much to learn. I've watched the industry go back and forth and then back again.   I think those traditionally trained as photographers are actually at an advantage over those only in the video world.  Photographers play so many roles and spend years honing their "eye". I believe the look and feel of  my photographs are at the core of this change and so the transition into Director of Photography has been a natural one for me. It is exciting to shoot motion and pull still frames from that work but honestly it is not the same.  And it is a TON more editing. The truth be told, it is the editing that brings the piece to life. It is hard to fight for extra editing dollars required for both still retouching and then also motion editing with color treatments. It is an interesting game with all the possibilities  but in the end, one direction has to be given priority. I'd say motion now has become a bigger piece of every shoot that I do for my clothing and fashion clients. We create "Behind the Scenes" motion pieces during the production and then add them when useful to give the brand some legs.
I am also starting to explore other areas of media such as 3d projection, CGI, and motion graphics. I am not personally learning all these things myself but rather the Studio is experimenting with them in our productions. I often hire experts that can help execute the vision and then we have to get the agencies to buy in and pay for it.
The future of imaging is fascinating but slightly unsettled with a big unknown component. There is no comfort zone and there will never be. I watched as digital changed the playing field forever and beginning in 2002, the industry became flooded with " good enough pro-am's ". This has drastically changed the landscape of this industry and the professional has to adapt or move on.
WHAT ARE YOU DOING PROFESSIONALLY
I truly love people and locations and I'd share that sky driving requires real passion. So what I'm doing professionally is an interesting question … I think the question is what am I not doing professionally. I am no longer just a photographer and it is actually a sort of insult when people limit me by inferring that. I'm truly an artist and creative problem solver using the mediums of photography and video to convey a message.  I shoot stills and motion of mostly fashion catalog work, clothing campaigns and look books as well as some edgy fashion editorial work or fashion mags. I would say fashion is my main income stream. I also shoot a lot of portraiture, pump pieces ( video ) both editorially and commercially of mostly of celebrities or other notables for magazines or networks.   That is an area I am expanding and growing into. I am working my way up that ladder.   I also shoot some real people, lifestyle for more corporate clients that makes money for the studio as well. I am constantly pushing and working to grow that portion of my business.
Beyond the commercial and fashion work, I've made it a point  to continue to produce my fine art work. This became more important in  2012. Currently two galleries represent and sell my work.  I am looking to add others in the next two years. The markets that I feel are best for my fine art work are Miami, Berlin and Hong Kong.  I am currently seeking gallery representation in those cities. I also hope to open in smaller markets such as Aspen, the Hamptons and possibly Dallas.   The fine art arena has expanded recently beyond framed prints to include fine art films and sculpture and installations. It is all very exciting and growing. I am also getting ready to launch a line of wearable functional accessories that will be used on iPhones and I am considering collaborating on an app for photographers.
The biggest shift for me occurred this year when I decided to donate my creative talents to non-profits.  Since making that commitment, I've seen that portion of my business expand beyond my expectations.   In May, I was commissioned by Stand Up 2 Cancer, a leading non-profit for cancer research to photograph over 100 survivors for their annual telethon which aired earlier in the year.   It was exciting to be commissioned to shoot for a non-profit. It feel goods on every level and it has been very rewarding to be invited to the live telethon and see the images that I created streamed into homes all over the world.   I've also done work for  the Cambodian Children's Fund a non-profit that is helping children living in the garbage dumps of Cambodia gain  access to cleaner and safer living conditions and attend school.  I'm excited to continue to develop my relation with this organization and see where it takes me.  The other big do-good has been the use of my talents with the Elysium Artists for the Arctic project. This adventure is an expedition with 60 crew members that brings scientists, artists and world renowned oceanographer Sylvia Earle together for a twenty-day voyage to the Arctic. The objective for the excursion is to document and create art about this drastically changing fragile ecosystem.  I will be going to create contemporary art work including still image series editions, video installation pieces and an global awareness campaign. The end goal is to bring awareness to the issues and affects of Global Warming.  This work will go on tour and travel to eight countries and it will be part of a documentary film.   I am passionate about issues that surround humanity, health and the environment. Using my talents and creative gifts to help these issues gain momentum has been so rewarding.
HOW HAS YOUR EDUCATION HELPED YOU IN THE BEGINNING AND NOW
At first, I saw a big difference in my understanding of the technical side of photography from other upstarts.  My education in applied optics, understanding how light worked, and other technical aspects of lighting and equipment was noticeably stronger than others  I met.  I noticed I was leaps and bounds ahead of  rival school graduates and grateful for that. It helped me when I was an assistant and I climbed quickly from a 3rd assistant to a 1st assistant. It also helped me to have the confidence to be able to light in many challenging situations and obtain the desired results.
At this time in my career, I feel the prestige and consider the RIT family when I think about RIT.  RIT continues to carry clout in the industry and shows others I'm serious and trained.  Also the RIT family is a rewarding  network of photographers and assistants to know. When I work globally, it can serve as  a resource for me when in a foreign city where I might be working. My agent is a RIT grad as well. We like to keep it in the family. I respect and appreciate that. We all know that graduating from RIT produces a certain caliber of professional.
SOCIAL MEDIA
WOW the ole social media question, this ebbs and flows  daily. Seriously. I do it all and it is a lot. Ask my assistant about all the sites that she has to update weekly. Honestly, I think its important to feed content to certain areas of the internet and social world. SEO is key and that content has to be targeted for a specific desired result. For example, you should curate your Instagram® feed, follow others, and get new followers. I have found that follows don't exactly = $ or bookings. I will say that follows can  = promotional opportunities because companies think you are a pseudo celeb in that specific demographic. You might get some offers from Canon if you have over 10k followers but honestly those can now be purchased. I think in the past year, I've seen more sustainability and results by going places, connecting in person with clients and  keeping up that social media face by doing the tweets, handing out the shout outs, giving thank you's. Then when folks look at my latest posts, I publish my personal fav's on Tumblr and there are more extensive looks on my blog. And then, there is my Linkedin. I feel LinkedIn has been the most productive of all. Honestly, it is the best place for the professional looking to expand a network.  It is a lot to keep up  and now there's ELLO.  I invest in me.  I do the social media train but I also go places. I go to Yoga Retreats, Surfing trips, Art Fairs, Sundance, Festivals and send out press releases and take clients to lunch or drinks. After all the digital NOISE, the old way of doing business still remains the best.  People like to work with people they like and it is that simple. I try to get to know people on an intimate and personal  level. You have to vibe with them, do a great job to nourish that relation, and treat the relationship like gold!
PERSONAL INTEREST –  IT BUILDS CHARACTER! 
Oh the Stories, It is all about story fodder, creating stories and making moments.   Because of my chosen profession, I've truly stepped into who I am as a human, what I want to be, and who I'm pushing myself to be.  MY future is limitless because I create it. That's the fascinating and amazing feature of this profession. We do truly create our reality.   Its made me smarter, faster, stronger, and more heart felt. I already had a strong work ethic but this industry has given me the drive and will power to persevere.  What a blessing to be able to do the things I get to do. As a artist, creative and photographer, I've found I've truly been able to get into and go places many  cannot.  I have stood on the landing gear of a 747, I have  met and photographed a real wolf, I have been a fly on the wall during one of the world's biggest corporate board meetings, and asked to photograph a beloved family member's last breaths while battling cancer.  I believe photographers are sensitized to seeing things that others may not and can experience life in different ways. Seeing all these things first hand can change a person!
I would d say that being a photographer has given me a vast appreciation for life. I see all kinds of people ranging from the mega wealthy to the very poor. I have traveled to the pristine locations in the world and to sad dying ecosystems.   It has humbled me massively  and helps me to understand that this life is short. I feel I am here for a purpose and I need to use my time to do something for the things that I am passionate about.
BIO
I was born and raised in western Pennsylvania  and I  am the first in my family to attend college. I graduated from RIT in 2003.  I moved to LA in 2004. Initially I worked at CORBIS selling stock photos in 2004. In 2005, I was a still photo assistant and  then I became an assistant producer until 2009. I currently reside in New York  and L.A. I frequently shoot internationally. In 2009, I opened JANA CRUDER PHOTO + MOTION
CONTACT – www.janacruder.com   |    Jana ( @ ) janacruder.com
FINE ART SITE – www.janacruderfineart.com
Follow Jana on Facebook – https://www.facebook.com/jana.cruder
Follow Jana on Instagram –  http://instagram.com/janacruder
LINK to MTV INTERVIEW
http://www.janacruder.com/#/portfolio/motion/janas-mtv-interview
LINK to RECENT MOTION PIECE
http://www.janacruder.com/#/portfolio/motion/18-mornings