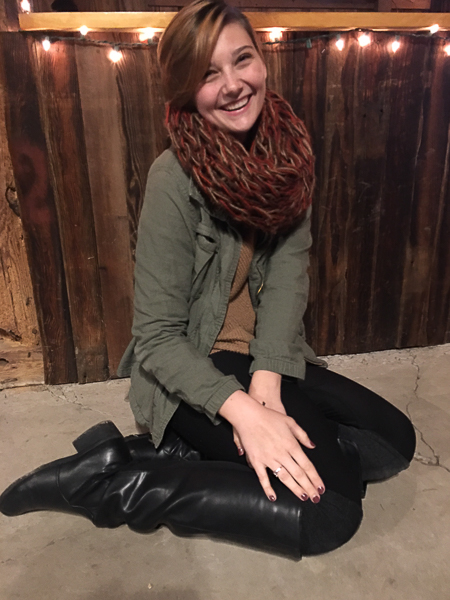 Lily Lautenschlager is a third year biomedical photographic communications major at RIT. She is from Marysville, Ohio. She applied early decision to RIT and enrolled in the fall of 2015. Her goal  is to find her way into the ophthalmic photography field.
Why did you choose RIT?
I chose RIT after coming to the RIT  College and Careers event in the summer between my junior and senior year. I was entering my senior year and didn't know what I wanted to study in college. I knew I wanted to get out of Ohio but I didn't know where or what for. I came to the event to explore the options I had to pursue. The last major of the day was when I got to explore was the Biomedical Photographic Communications degree and I instantly fell in love with the topics. I worked with a microscope and thought that's what I wanted to do. I was keen on taking  spectacular images for science. As I explored the major once at RIT, I realized my passion for the ophthalmic photography was stronger and I haven working towards that goal. RIT is the only place in the U.S. that offers this program.
What have been your experiences as a BS student at RIT?
As a biomed photo major, I am constantly explaining to others what I do and what I can do with my degree. The first year at RIT I took general photo classes and learned how to better operate my camera. Then during my second year,  I  took the scientific photography course and learned how being a scientific photographer is similar and different from what an artist photographer does. During my third year is when I got to dive head first into my specialization courses such as video and instructional design. This – my fourth –year, I am taking the ophthalmic photographic course and learning what exactly I could do as a career with my degree. I've learned more than just how to be a scientific photographer; I've learned how to be a professional.
Due to my connections with RIT and how vast the network of alumni is, I was able to secure a co-op this past summer. I worked as an ophthalmic photographer for The Ross Eye Institute in Buffalo, New York. This was the most amazing opportunity RIT has given me so far. I learned how to operate a fundus camera, an OCT camera, an Optos camera, and a PentaCam. I learned how to interact with patients and doctors alike. This co-op reassured me that I was in the right place and studying the right thing for me.
What are you plans after School?
After RIT, I plan to pursue further education to become an optometrist. I found this passion after co-op this summer. I decided that i was more interested  in being an optometrist instead of an ophthalmologist because I don't like needles and I didn't want to perform surgeries. To become an optometrist is four more years of schooling and there are only 23 schools in the US. I look forward to this opportunity and believe I can achieve this because of my strong educational foundations earned at RIT.