Sarah Anne Ward is a professional photographer currently based in New York City specializing in food/drinks, soft-goods and product photography.
We asked her some questions about her life as a photographer after RIT, here are her responses.
SPAS: How has your education helped you after graduation, preparation for your first job, and in your career since?
Sarah: My RIT education certainly helped me get my foot in the door in the NYC photography world. Upon graduation and pursuing the assisting route, having the RIT name on my resume was very beneficial. RIT alumni have always had a great reputation for their work ethic and technical skills. After sending out a few resumes and making cold calls I was entrenched in the assisting world. I spent a few years assisting, teching, RAID building, retouching, and styling for photographers I admired…you name it I wanted to learn it all and apprenticing is the best way. Through assisting I learned the business side of photography while simultaneously pursuing my own shooting clients on the side. My very first shooting job was with BUST Magazine where a former RIT design student was working at the time who knew I would produce professional work. From there the word of mouth/snowball effect came in to play, planting seeds whenever I could. And in turn, whenever I get a resume from an RIT assistant they go on my list of first to call because I know they will be professional.
SPAS: How you are using social media in your professional work?
Sarah: This is an interesting question as social media is just simply the world we live in today. Every company is using it in some way or another. With that said I think it is necessary in some ways but not a means to launch a career. We are in the Google generation so whenever a new social media site comes out I want to get my name secured as soon as possible to keep my name attached to my work. No one goes to the phone book anymore to find someone, they Google you and research whatever site is hot at the moment. I, personally, use various aspects of social media to promote my work because you have to let clients know that you are constantly producing and staying fresh. And being a professional photographer is not just about having great work but being someone that people like to gravitate to and want to be around for 10 plus hours a day.
SPAS: How has being a photographer helped you in other aspects of your life?
Sarah: Making images is simply second nature to me. I could not see myself doing anything else. I do it every day whether someone pays me or not. It is an amazing feeling to be able to make your passion into a profession. At the beginning of the recession things got pretty slow in NYC but flights and travel happen to be extremely cheap. So I took some time off to do a personal project photographing various bed and breakfasts in Europe. I was able to travel to Europe, meet incredible people, learn new cultures, try new cuisine and simply get be inspired from a city escape. Photography can open so many doors and create so many wonderful experiences but you have to love it and work hard.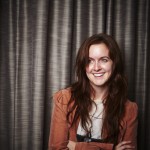 Originally from Rockville, Maryland, Sarah has always loved photography. She took extra photo classes in high school, stayed afterschool to print in the darkroom and was the yearbook photo-editor. Her high school guidance counselor recommended RIT so I took a visit with her mother and fell in love with the school. After many sleepless nights, inspiration critiques and wonderful friendships made, she graduated from RIT in 2007 with a BFA in Advertising Photography. After a few good years of assisting and digital teching for other photographers she is now a professional photographer currently based in New York City specializing in food/drinks, soft-goods and product photography. When not in the studio, she is wandering the NYC by bike or traveling somewhere completely random with a good friend who is up for an adventure.