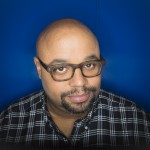 Feb 6 and 7, 2014,  '94 alum Robert Johnson visited RIT. Robert is the director of photography at the Weather Channel where he oversees all photography at the network. He is responsible for setting the Channel brand and engaging viewers using photography across all the Weather Channel's digital and television platforms.
Prior to joining the Weather Channel, Robert worked as a photo editor for CNN.com, where he specialized in photographing ordinary people's lives for stories not typical of the mainstream media. He helped create the award-winning CNN Photo Blog. He also traveled the nation with CNN's acclaimed writer Wayne Drash, photographing the events and struggles of the everyday man.
Johnson and Drash were the keynote speakers in Prague, Czech Republic, at an event on racial reconciliation which was sponsored by the State Department. Johnson was named a 2011 Kiplinger Fellow at The Ohio State University where he refined his skills in the newest social media techniques. He is a member of the Kalish photography workshop known for picture editing excellence. Robert's work is also included in the permanent collection of the Studio Museum of Harlem.
While visiting campus, Robert visited classes, shared his career story in a richly illustrated lecture, and reviewed portfolios. RIT Photo was thrilled to host his visit.