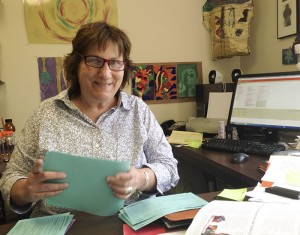 Students and the Photography School are very lucky to have a huge resource in the Office of Cooperative Education and Career Services.
This office is driven by the simple mission:   To provide effective, high-quality services to RIT students and alumni,  empowering and supporting them in the achievement of their experiential learning, career and employment goals.
For the past nineteen years, it has been my great pleasure to support the talented students and alumni of RIT's School of Photographic Arts and Sciences, as their Co-op and Career Services Program Coordinator.  It is my feeling that I have the best "job" in the world. I love to market our talented students and alumni to those looking to hire the most skilled and passionate interns, co-ops, or full-time employees.  Please contact me directly if I can be of help to you or your organization in any way.  Go Tigers!!
Lisa Vasaturo
Rochester Institute of Technology
Program Coordinator/Career Fair Co-Coordinator
Office of Cooperative Education & Career Services
585.475.2301 (for appointments)
585.475.5460 (direct line)
lmvoce@rit.edu