The RIT experience is immersive and diverse. Students enroll in photography classes right from the beginning of their education in year one and in the first semester. It is an applied education that provides a wide range of general education experiences. RIT offered its first photography class in 1902.
The entering first year class of the College of Imaging Arts and Sciences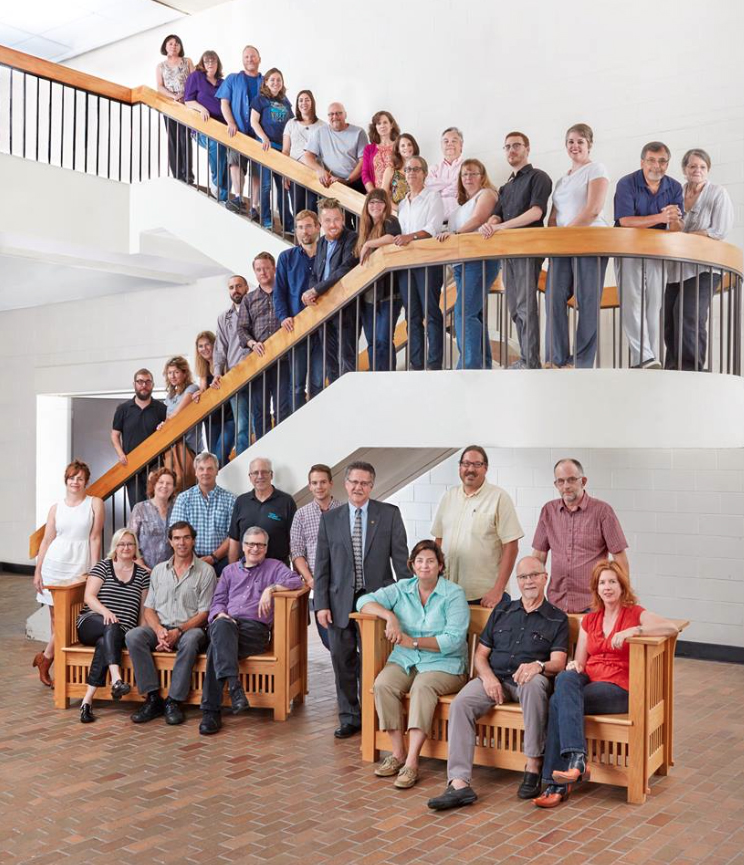 The 2014 faculty portrait. Photograph by Seth Abel
The faculty of the School is large and diverse. They are all active in their specializations. Some are artists, some are technologists, some are conservationists, and a few are historians. The School teaches aerial drone photography and fine art photography. Because of this rich diversity that blends art, science, application, and humanities/science,  students find their way into all kinds of careers after graduation. We believe no where else could a student have such a diverse education with the caliber of this world renown faculty that consists of a 4x Pulitzer Prize winner, 2 Fulbright recipients, a Guggenheim recipient, a former member of the White House press core as well as many other noteworthy overachievers.

These are but a few of the job titles recent graduates hold:
Advertising photographer
Aerial & drone photographer
Architectural photographer
Archivist
Art Buyer
Art Director
Assistant Curator
Astrophotographer
Audiovisual communications expert
Biological photographer
Catalog photographer
Commercial photographer
Visual Communications photographer
Corporate photographer
Creative Director
Curator of Exhibits
Dance photographer
Dental photographer
Digital Imaging Specialist
Digital Tech
Documentary photographer
E Commerce Photographer
Equipment sales
Exhibition Preparer
Fashion photographer
Fine art photographer
Food photographer
Forensic photographer
Freelance photographer
Gallerist
Gallery Manager
Gallery Owner
High-speed photographer
Image analysis
Imaging science
Industrial photographer
Landscape photographer
Manufacturer's Representative
Medical photographer
Military photographer
Multimedia producer
Nature photographer
Narrative, documentary and editorial Photographer
Ophthalmic photographer
Panoramic photographer
Photographer's Agent
Photographer's assistant
Photogrammetry
Photography Blogger
Photo Editor
Photographic educator
Photographic Historian
Photo retoucher
Photo Researcher
Photographic Sales Representative
Photographic scientist
Photointerpretation specialist
Photojournalist
Photomicrographer
Picture editor
Portrait photographer
Producer
Professional photographer
Project Manager
Research photographer
Reproduction [fine art and conservation] photographer
Restoration photographer
School photographer
Scientific photographer
Social Media Specialist
Sports photographer
Stock photographer
Studio Art Assistant
Studio Manager
Surveillance photographer
Technical photographer
Theatrical photographer
Travel photographer
Underwater photographer
Video editor
Video effects compositor
Video and image designer for theater
Visual Journalist
Wedding photographer
Yearbook photographer