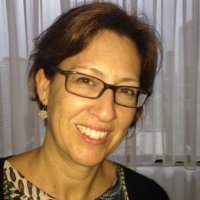 How has your education helped you in your career since graduation?
For the past 20 years I've been a strategic planner in advertising. My education from RIT had a tremendous and valuable impact on the work I've been doing since I earned a BS in Biomedical Photographic Communications in 1987.
Beyond theory and technique, I was taught how to problem-solve and troubleshoot. One vivid memory I have is from a video course I took in the winter. I borrowed equipment from the cage and had to walk and transport the equipment across the Quarter Mile to my dorm. Inevitably, the gear was filled with moisture. As soon as I inserted a video tape into the machine and pushed "record", instead of the satisfying sound of tape whirring across the pins, I'd hear the crunch of destruction — not only of the tape, but also my plan for the afternoon of work. I then needed to find time to bring the non-working gear back to the Photo Building for repair. I eventually completed my coursework, and probably got a decent grade. More importantly though, I learned to think about the impact of planning for unexpected diversions, how to ask for help, and all sorts of creative problem-solving techniques to manage with the delays and the frustration. Those are life-long lessons.
RIT gave me greater familiarity and confidence with technology – much more than other schools might have done. People talk about required coding classes today, but we were doing that in the late 80s. We were working with Atari one minute and switching over to the new Mac lab as soon as it opened. We were taught to be flexible, versatile, and reapply the logic from one format to the next. Even within humanities electives, we were encouraged to consider the implications of technology on how people live their daily lives. That foundation gave me an advantage in expecting and exploring how technology has affected communications and media over the course of my career in advertising.
Think about Kodak's general consumer business back in 2000. Digital photography was gaining momentum, but according to Kodak consumer research, it wasn't mass. They were still overly invested in film, which was the undoing of the brand. As it turned out, with each passing month, candid photos and snapshots were no longer reliant and exclusive to film. And as much as my Kodak clients thought mainstream moms weren't going to bother with "complicated digital cameras", they were wrong. And we learned from this failure that we've got to consider the little trends that can gain scale so quickly. And also how technology and "complicated" are no longer hand in hand.
RIT also served as training ground for professionalism. As students we built on each others work and ideas. We made deadlines. We showed up for commitments. It might have seemed frivolous to mat photos for a weekly critique, only to discard them. But the practice taught us to respect the work and the ensuing discussion. We learned to let go and move on, too. All of this has helped me serve my colleagues and my clients.
And now, in a life after biomedical photography?
I work in advertising in strategy, which is all about problem-solving and making choices. I'm helping my marketing clients and my creative teams determine what to do with regards to communication for a particular initiative. It involves a lot of "what ifs" and chasing the logic flow from issue to opportunity to idea. It's a high-stakes environment. I never get bored.
How are you using social media in your professional work?
I'm guessing most of the readership of this blog hasn't seen nearly as many TV commercials and magazine ads as they've seen broadband video, native advertising and Facebook and Twitter feeds. We consume media differently than we did even 3 years ago. The way I use social media is quite critical to our success. It's about being relevant.
I've found my past 3 jobs through Linked In rather than through traditional headhunters. When I was consulting from 2011 – 2013, I kept a running blog, which helped demonstrate my credibility in the industry. I've been part of Facebook and Twitter since 2009. The media is growing up and so are we.
How has being a photographer helped you in other aspects of your life?
I still use aspects of photography in terms of presentation style and visual story-telling. I trained to photograph surgery procedures to help educate medical professionals, and now I'm still using photography to help educate my colleagues and clients: how the Chinese fly kites to help overcome shoulder pain, or how Russians eat soup for a hearty warm breakfast.
BIO
Carolyn Dateo is Senior VP, Global Brand Strategy at Publicis in New York City. Dateo has developed creative strategies for blue-chip brands such as Oral-B and Crest, Novartis, Kodak, Iams pet foods, Pampers, Stouffers and Lean Cuisine. She has a reputation for uncovering consumer insights across diverse markets such as China, Germany, Russia, USA, Italy, UK and Mexico.
Dateo had been a professional photographer from 1987 – 1994. She worked as a biomedical photographer at Duke University Medical Center and Glaxo, Inc. She also served as a producer in commercial photography specializing in travel and on-location large object photography with clients such as North Carolina Travel & Tourism, Norwegian Cruise Lines, Volvo GM White Trucks.
https://www.youtube.com/watch?v=aZGFlffxi4Q
https://www.youtube.com/watch?v=02bPn-2LQO0&index=9&list=PL-wi_-0blDUussMOhm49hdDWC_dOncORt
https://www.youtube.com/watch?v=UqYtKMaKcxk
https://www.youtube.com/watch?v=oi9BYXaFvAY
https://www.youtube.com/watch?v=rtuh6n9vPQU&index=8&list=PL-wi_-0blDUussMOhm49hdDWC_dOncORt
https://www.youtube.com/watch?v=O9Obg4Eusvo