by Frank Cost
This spring semester I will be teaching a new elective course in aerial photography and videography. My preparation for this course began more than 50 years ago, when I began to accompany my father to a model airplane flying field located on a farm on the Onondaga Nation reservation south of Syracuse, New York. Both of my parents were born in 1927, the year that Lindberg flew across the Atlantic Ocean, and grew up during the great romantic era in the history of aviation. In the 1970s they both became private pilots and started a business called Hummingbird Aerial Photography. My first aerial pictures were taken from the passenger seat of their two-passenger 1946 vintage Taylorcraft light plane.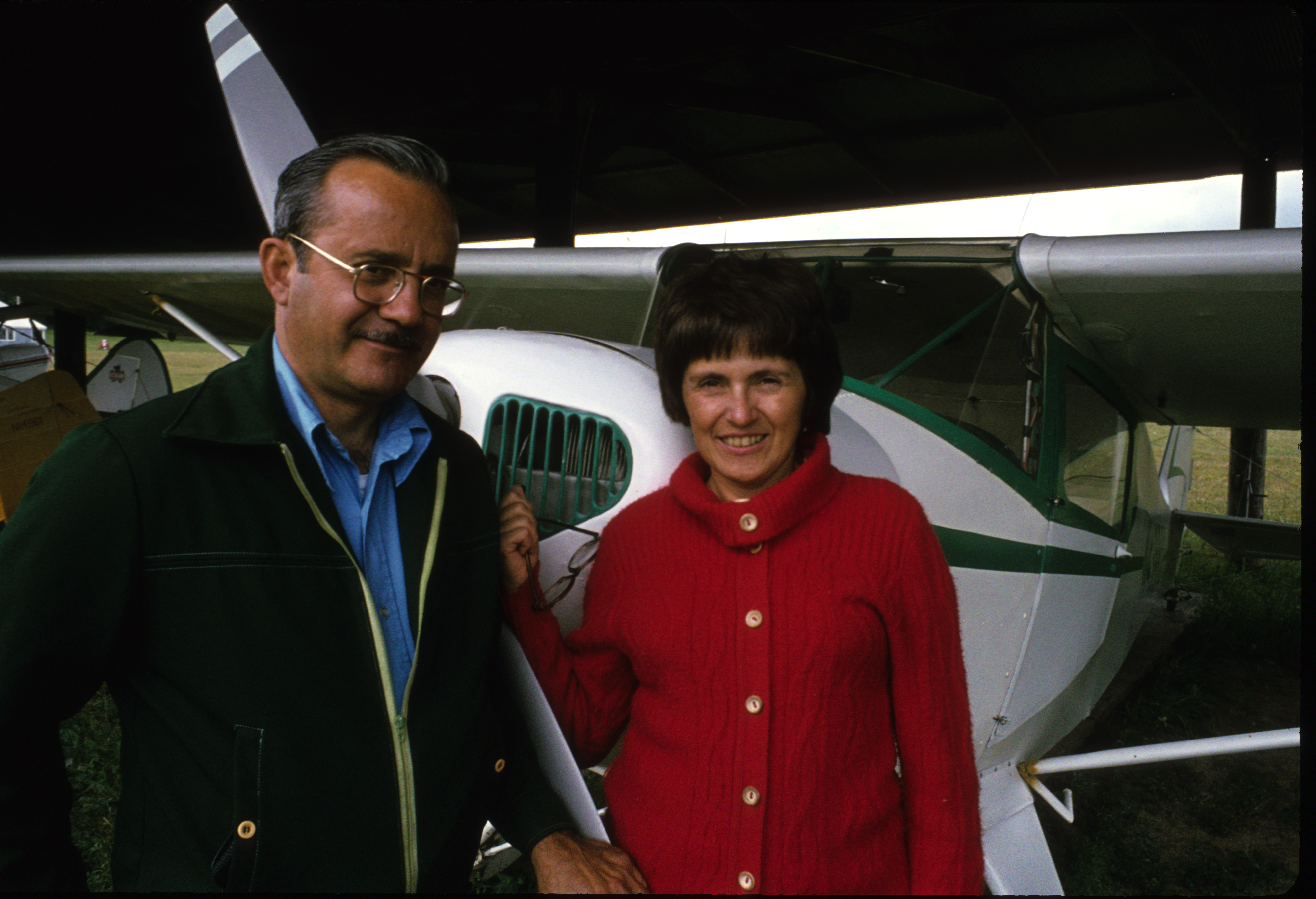 Emil and Elaine Cost and their 1946 TaylorCraft light plane circa 1975.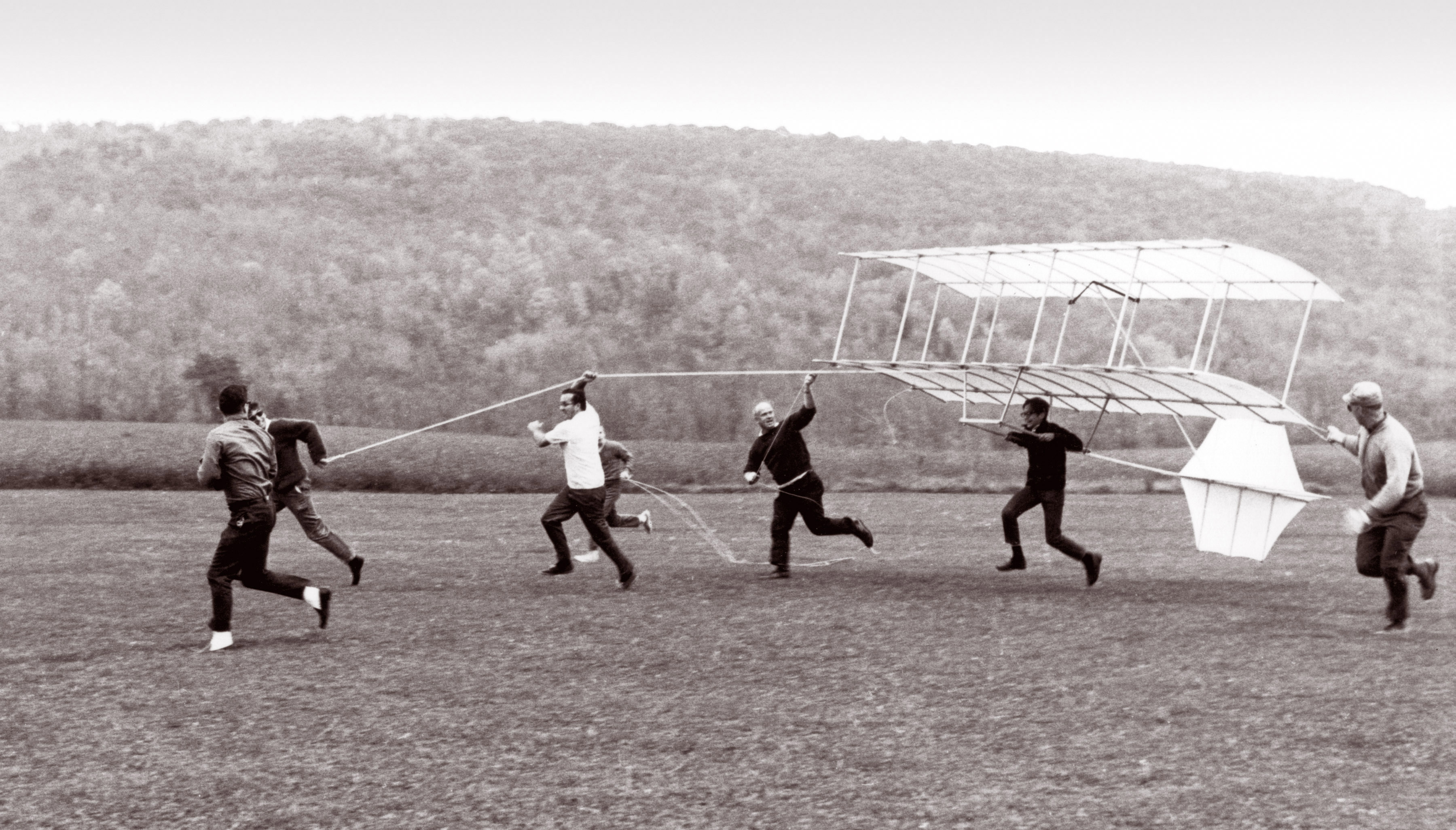 The combination of aviation and photography as a dominant theme in my life is best illustrated by a single photograph that my mother made in 1968. In it I am hanging from the undercarriage of a replica of an 1896 vintage hang glider that my father built in his spare time in our basement. My father, wearing the white shirt, recruited a group of friends to help try to loft the glider with a person on board. When he sees this picture now he expresses his gratitude for the fact that the wind had not been strong enough to lift the glider high enough to risk injury to me.
One of the consequences of a lot of flying is the increased risk of injury or death. During the years that my parents were flyers, I was acutely aware of this risk. My mother's cousin, who was an experienced instrument pilot with thousands of hours of flying time, crashed into a mountain in the Catskills with two passengers on board, and all lost their lives. My father crashed twice and was fortunate to walk away with minor injuries.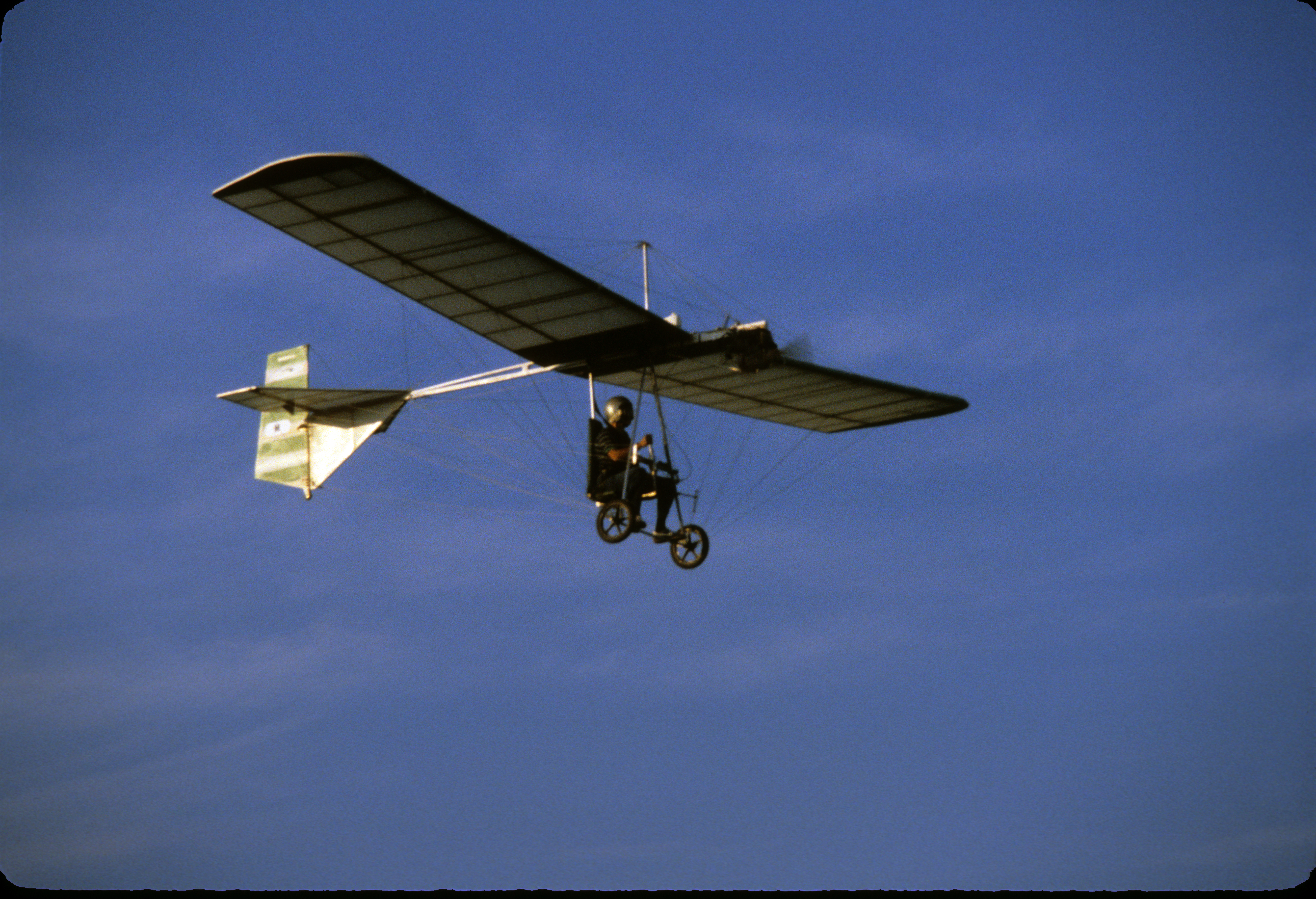 My father built this ultra-light airplane and had a lot of fun flying around Central New York until he crashed on a cross-wind takeoff one day and was forbidden by my mother to continue this particular form of aviation.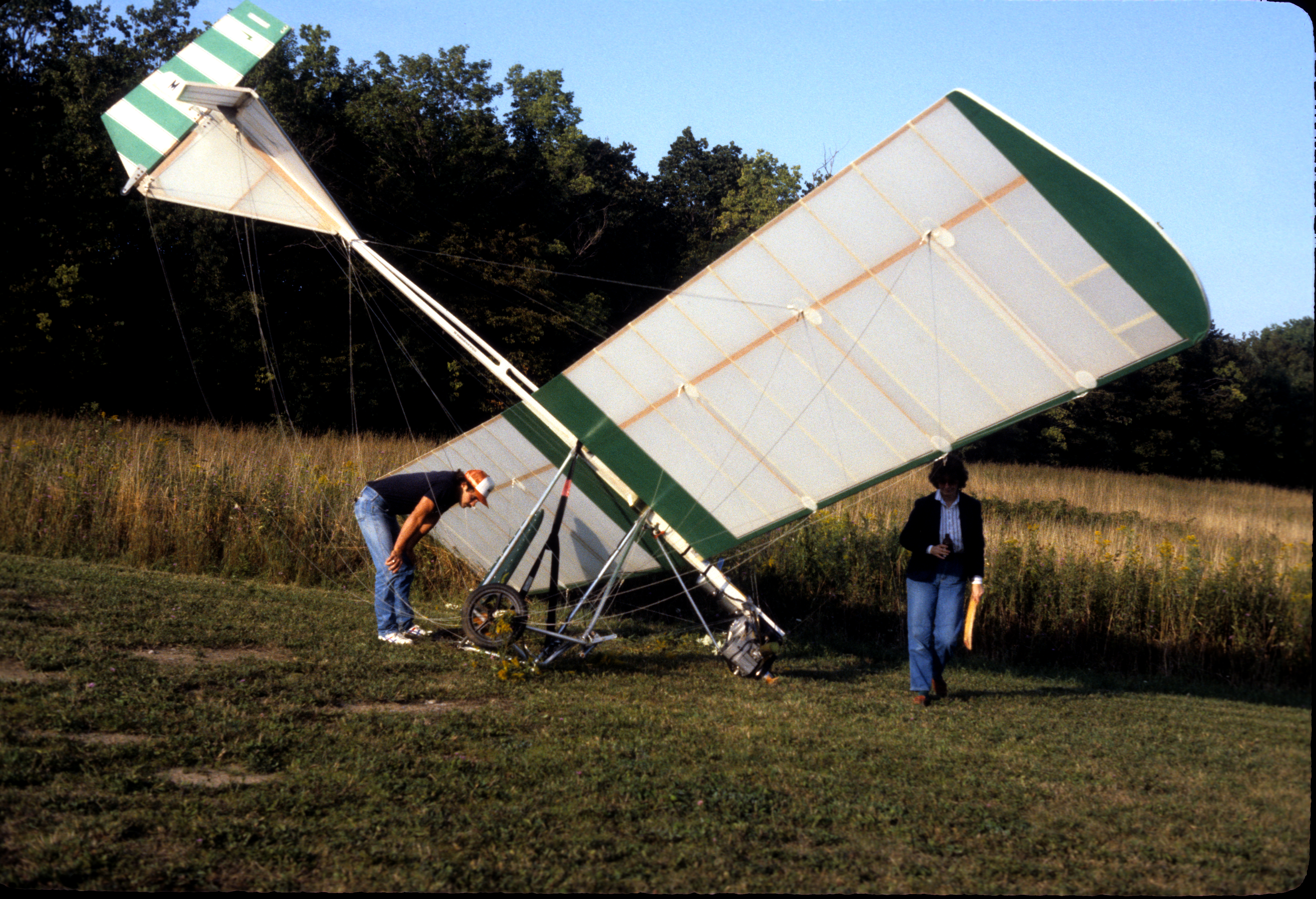 So I began to think about ways to send a camera up into the sky without having to be there myself. Over the years, various members of my family have experimented with cameras on kites, rockets, radio controlled airplanes, and now, multi-rotor drones. Six years ago I taped my iPhone to the side of a radio-controlled airplane and made a crude video of the RIT campus from the air that started me on a quest for the perfect platform for aerial photography that continues to this day.
In those six years the platforms for aerial photography have advanced to the point where we can offer a course that will enable students to learn how to create still and moving imagery from the air that we could hardly have imagined back then.
Last summer I demonstrated some of the latest technology to a group of colleagues from the George Eastman House. From that event I was able to produce both a panoramic still image and a video. The video was featured in an Eastman House exhibition, Innovation in the Imaging Capital, from September 20, 2014 through January 4, 2015.
You can watch the video here: https://www.youtube.com/watch?v=HfyVg14UkV8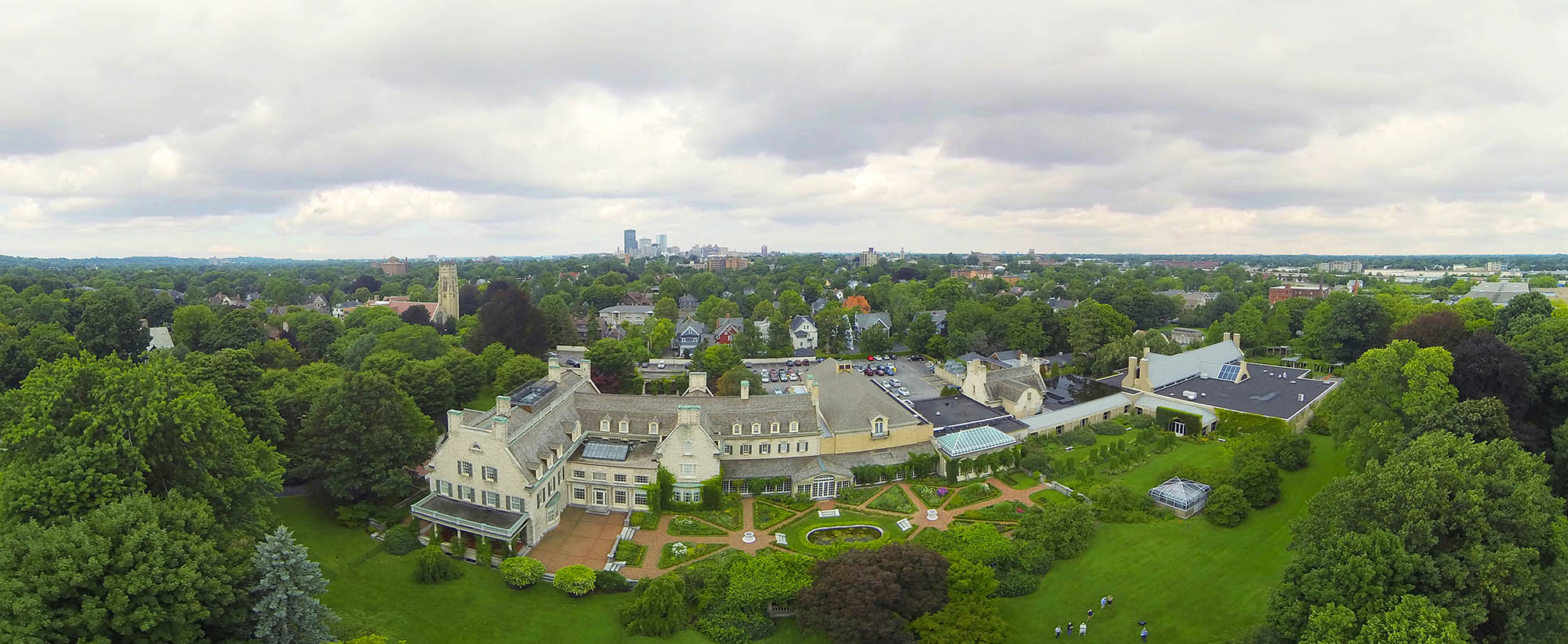 This aerial panorama of the George Eastman House is a composite image made from still and video frames acquired with a GoPro camera attached to a quadrotor drone.
Aerial Photography and Videography
Instructor: Frank Cost
3 semester credit hours
Spring 2015 and Fall 2015
This course will begin with a survey of the history of aerial perspective drawing, painting, and photography from platforms such as balloons, kites, birds, airplanes, rockets and orbital spacecraft. The course will also address the current (and rapidly evolving) legal and regulatory environment for aerial image making in the United States. Students will learn about existing and emerging technologies for acquiring aerial imagery in both manual and automatic (programmed) modes. The class will also engage in an extensive review of existing art. Students will employ both fixed-wing and rotary-wing remote-controlled platforms in projects throughout the semester. Students will learn to pre-visualize images and video sequences using software tools such as Google Earth. Students will learn how to fly remote-controlled aerial camera platforms and will engage in building customized platforms to solve specific problems. Students will use these platforms to acquire imagery with which to create published works in both still and video formats. Cameras and aerial platforms for basic work will be provided.