A few years ago a triptych arrangement of three photographs of my mother – taken around 1950 – was discovered in a box in the basement of my parents' home in Syracuse, New York.  The three frames had been printed onto one sheet of 11 by 14 glossy photo paper with captions written in ink beneath each frame. My mother told me that the print was made by one of her co-workers at Time-Life in Washington, D.C. and had been taped to her office door on the Monday after the weekend photographs were taken. The co-worker was a friend of hers named John Zimmerman, who was a young photographer on the staff of Life magazine. John went on to become a celebrated photographer with over 100 Sports Illustrated covers, among other accomplishments. A few years after he made these pictures, my mother moved to New York to take a job with the March of Time movie newsreel company and she eventually lost touch with John. But she kept the photographs, which survived all the intervening years from then until now.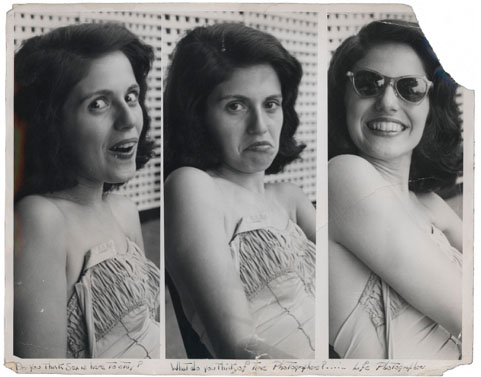 Recently Mom, who is now 89, found an envelope in a box of old papers containing fragments of contact sheets from that same day. On the contact sheets the images were reversed in relation to their enlargements on the triptych. They had apparently been printed reversed to face reading direction left to right. In addition to the three frames in the triptych there are 25 additional frames. Each contact-printed image contains enough detail to allow for substantial enlargement. With the exceptions of the three frames used to make the triptych, there is no evidence that any of the other frames had ever been printed as enlargements.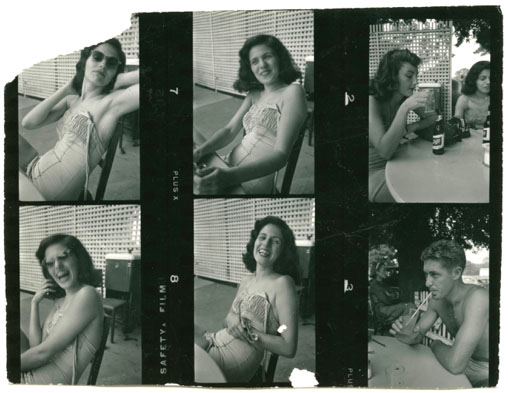 I scanned the frames on the contact sheets with the idea of making a set of prints of the images that had lain dormant for more than 65 years.
When I began to take a closer look, I had an idea: Could I get Mom at 89 to agree to try to reproduce some of her poses and expressions from photographs taken when she was 23? To my delight, she said yes!
So we set up a photo shoot in her kitchen, and she did her best to recreate each of seven poses from the contact sheets. Here's one of the new photographs paired with the original.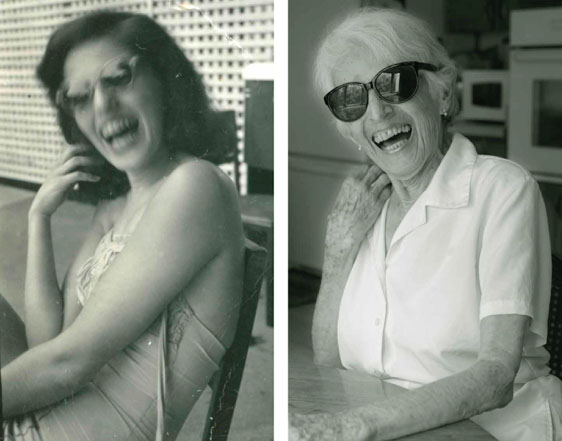 The others, along with a selection of the images retrieved from the long-lost contact sheet fragments, will appear in a new book entitled Contact Sheet, soon to be published by Fossil Press.  I hope to finish it in time to give it to Mom on her 90th birthday.
Frank Cost is the James E. McGhee Professor of Visual Media in the School of Photography at Rochester Institute of Technology. He has taught a wide variety of courses in the field of visual media for more than three decades. Frank has been photographing professionally since 1975 and has authored both textbooks and experimental photo books exploring new forms of graphic expression enabled by digital technologies. He can be contacted at frank.cost@rit.edu.