Still Visible After Gezi – part of the exhibition Wanderlust, University of Buffalo Galleries,
& Do you know this tree? Visual Studies Workshop Press (2017).
by
Roberley Bell  Professor Fine Art
In 2010, as a Fulbright scholar,  I lived in Istanbul, Turkey. A project that began accidentally while there has now become an exhibition and book after seven years of sustained  commitment to the work. My book Do you know this tree tells the story, both as text and image.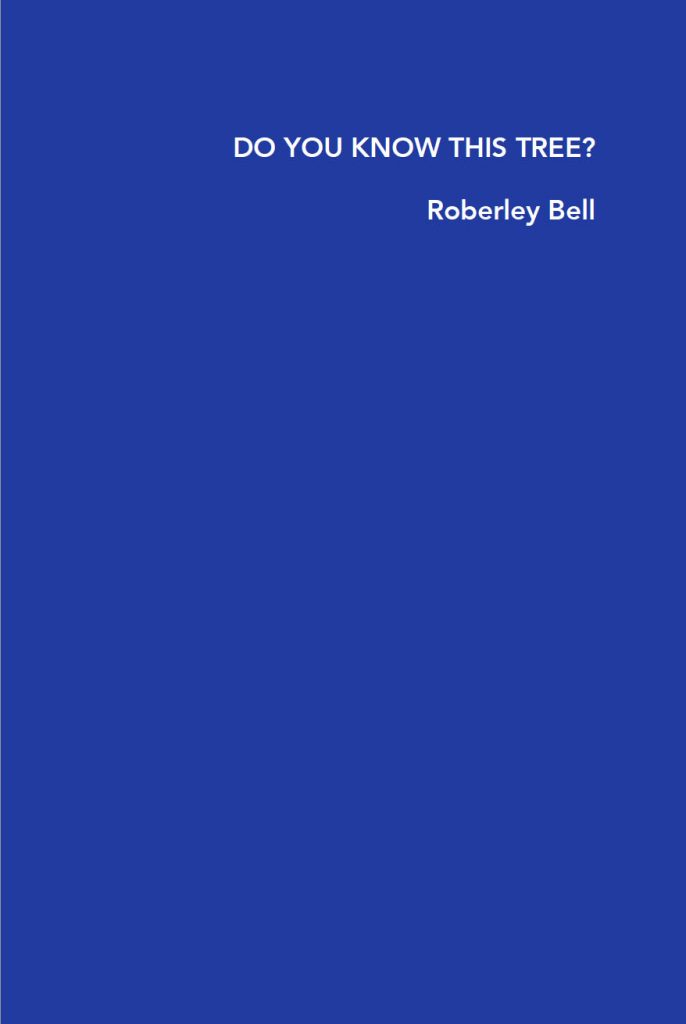 I began photographing the trees in 2010 on my daily meanderings through the city streets. These trees were not iconic symbols of the beauty of nature, but rather trees that had negotiated a precarious position within the urban landscape. I returned in 2105, after the Gezi demonstrations to check up on and again photograph my "Istanbul" trees. I returned to try to find the trees, that had become important to me. I knew seeking them out would reveal something –I just wasn't sure what that would be.
I wanted to go back and see, if working from memory, I could relocate these trees. What emerged was a story, theirs and mine, as I moved through the city retracing my footsteps. For me, the trees of Istanbul are a powerful metaphor and stoic symbol of survival speaking to the humanity of the ever-expanding city. Do You Know This Tree? is that set of experiences.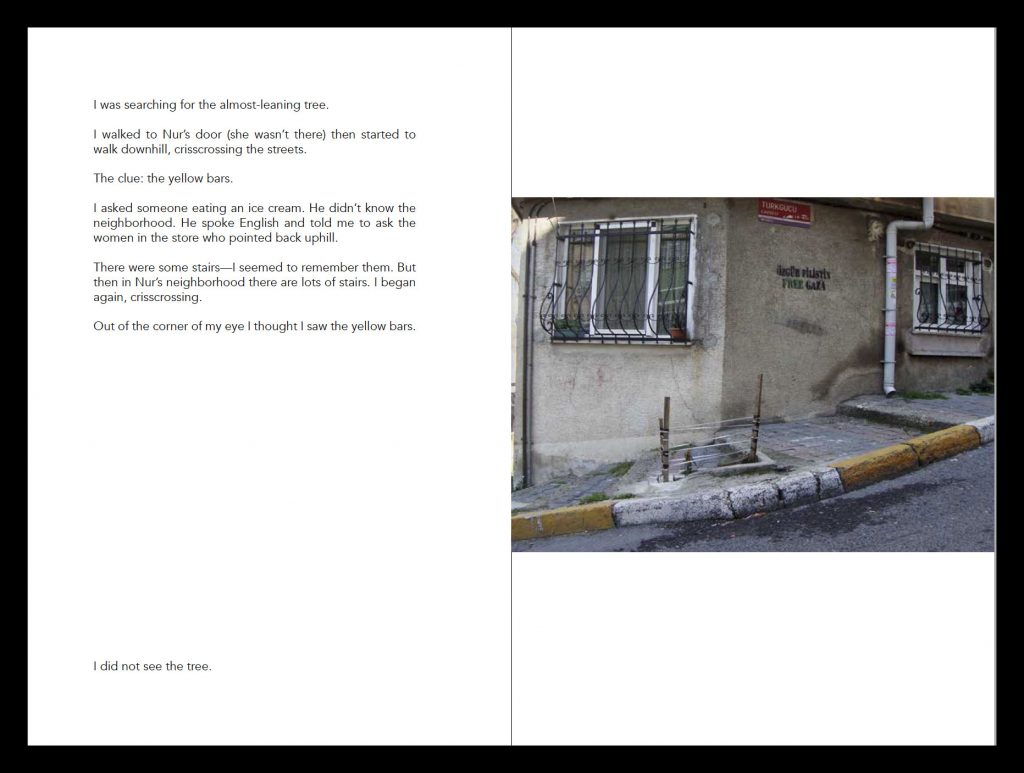 Shared on this link is a PDF of my book. Do_You_Know_This_Tree-Screen.
The completed project, Still Visible After Gezi, was installed as part of the exhibition Wanderlust this past fall at a SUNY Buffalo. https://www.buffalo.edu/ubnow/stories/2017/08/wanderlust.html
For the exhibition, I conceived each tree as its own story, creating a turquoise frame. Within the frame the tree – originally photographed in 2010 – are smaller images of landmarks that guided me back to the tree in 2015 and the current state of the tree as I found it five years later. Sometime there was a void. The empty space represents the tree that was no longer there or perhaps I had remembered the location wrong. All together 16 trees are included in Still Visible After Gezi. Shared below are two images, one of a detail and then installed  photo.
I am pleased to share two events that will highlight the release of my new book.
Do You Know This Tree?
http://www.vsw.org/publications/vsw-press/do-you-know-this-tree/?preview=true
 Gallery Talk with artist Roberley Bell and Visual Studies Workshop Director Tate Shaw
November 30th at 5:30pm
201 Center for the Arts
Buffalo, NY 14260
716.645.0570
Join me on November 30th in the 2nd floor gallery at the Center for the Arts to learn more about Wanderlust artist Roberley Bell's new book, Do You Know This Tree? Do You Know This Tree? collects daily walks the artist took from an apartment in Istanbul to various trees she had photographed five years prior in 2010. The book's diary-like text reveals Bell's thoughts and document her encounters as she searches for these "ugly" trees that in their caretaking represent for the artist the humanity of the city of Istanbul. On view in the gallery as part of Wanderlust is Still Visible, After Gezi, Bell's photographs of her trees during the process of finding and re-finding them. Bell will be in conversation with Visual Studies Workshop Director Tate Shaw and Senior Curator of UB Art Galleries Rachel Adams. Both Do You Know This Tree? and the Wanderlust: Actions, Traces, Journeys 1967-2017 catalogues will be available for sale.
https://www.buffalo.edu/ubnow/stories/2017/08/wanderlust.html
Book launch Visual Studies Workshop
Saturday the 9th of December
Reading at 2:30
(many VSW festivities are planned throughout the afternoon)
Visual Studies Workshop
31 Prince Street
Rochester, NY 14607

About Professor Bell
Roberley Bell spent her childhood in Latin America and Southeast Asia, before returning to the United States to attend the University of Massachusetts and State University of New York at Alfred from where she earned an MFA in Sculpture. Bell is the recipient of many grants and fellowships including the New York Foundation for the Arts, a Pollock Krasner Fellowship, and a 2010 Senior Scholar Fulbright to Turkey. Bell's Fulbright projects the city as the site of intervention resulted in a series of projects in public spaces. Bell has received several residency awards both nationally and internationally. Bell's work has been exhibited in one person and group exhibitions, nationally and internationally including many art fairs. Bell has completed public projects , nationally and internationally. Bell is a professor at Rochester Institute of Technology, Rochester, NY where she teaches studios in three dimensional design and seminars on public art/public space and the practice of art in a global society . Bell has led workshops on exploratory spatial experiences at numerous venues world wide including the 6th International Interaction Design Workshop 'Design as Seeing as thinking' held in Istanbul.